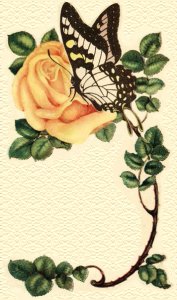 We wanted to provide this website in order to help make others aware and to help stop Suicide. We would like to establish our own yellow rose in support of this most honored day.
American Foundation of Suicide Prevention



The graphic below is for you to display this on your website. Please provide a link back to
http://mpas.tripod.com/sim2.html.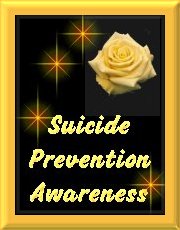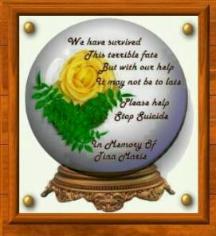 Beautiful Gift made by Helen Mead

Suicide
What exactly is this word
We hear so much about
Its the taking of one's life
As they see no other route

People get so down and out
And see no other way
Of trying to get past the pain
for just one more day

They never see beyond today
Of what great pain they'll cause
For their pain is so great
They can't for one minute pause

To see that down the road will be
Less pain, more love and peace
All they feel is darkness
Coming over them that won't cease

Lets reach out our hand
Help them find the way
For if we can get them through it
Tomorrow will be a better day.

Written by Helen Mead©
Mom to Tina Marie
January 17, 1967 to March 15, 1983


Every 17 minutes in the United States, someone commits suicide, leaving family, friends, coworkers and doctors to wonder what they could have done to prevent it. The people we lose to suicide aren't statistics. They are somebody's brother, daughter, son or sister. They are real people. A firearm is used in nearly 3 of every 5 suicides. These are some of the most prominent facts about suicide.

Suicide is the eighth leading killer in the United States. Thirty thousand Americans commit suicide each year. Half a million more make an attempt serious enough to require emergency room care. They leave behind relatives and friends to deal with unimaginable grief and guilt: What could they have done differently? In 1997, the latest year for which national statistics are available, suicide was the eighth leading killer, claiming twice as many lives as AIDS and 1.5 times more lives than homicides, but gets little attention. That led Surgeon General, David Satcher, to issue a call for the nation to confront suicide as a major health crisis. Suicide is the nation's most preventable cause of death.

Illness is a factor in suicide. As many as 95 percent of those who die of suicide had a diagnosable psychiatric illness. The majority of those who kill themselves visited a physician within the month before they died. Nearly all had alluded to suicide to a friend, relative, co-worker, minister or doctor. Many never ask for help. Society had failed them. Death seemed the only way out.

Suicide is in that category of thorny subjects people don't like to discuss. Many can speak openly now of prostate cancer, breast cancer and divorce, but stumble over mental illness and suicide. When it matters, it's usually too late. Changes in our society can help to bring the disease into the public spotlight so that lives can be saved through recognizing symptoms (listed below). Mental health experts say suicide can be prevented, but not without a massive shift in the way the public, medical community, insurance companies and government deal with it.

Why is there no help? The reasons suicidal people don't get help are both personal and societal. They are afraid to seek psychiatric treatment and be labeled as "crazy." They fear the effects of mood-altering medication. More than 90 percent of suicidal people have some type of diagnosable mental disorder, usually depression, but medical doctors don't routinely screen patients for depression or ask about suicidal thoughts. Even when depression is diagnosed in a suicidal patient, limited coverage for mental health services by managed care plans can restrict access to therapy and medication in an effort to save costs.

There are plenty of theories as to why the youth suicide rate is exploding. One factor is better reporting and forensic practices that identify suicides that in the past would have been classified as accidents.

Research by the federal government and private groups such as the American Foundation for the Prevention of Suicide list numerous additional reasons for the increase:

Easier access to lethal means, such as guns and drugs.
A more violent youth culture, fueled by video games, music, television and movies.
A lack of family stability; divorce, abuse.
Reduced impulse control due to technology and the rapid pace of modern life.
A romantic misconception about the finality of death.
Peer pressure and a feeling of powerlessness.
Limited access to mental health services.



Of all the reasons, experts agree that guns are the chief culprit. For teens 15- to 19-years-old, firearm-related suicides accounted for 96 percent of the increase in the suicide rate over the last 20 years, according to figures in U.S. Surgeon General David Satcher's report, "A Call to Action to Prevent Suicide."

Be Aware of the Warning Signs

There is no typical suicide victim. It happens to young and old, rich and poor. Fortunately there are some common warning signs which, when acted upon, can save lives. Here are some signs to look for:

A suicidal person might be suicidal if he or she:

Talks about committing suicide
Has trouble eating or sleeping
Experiences drastic changes in behavior
Withdraws from friends and/or social activities
Loses interest in hobbies, work, school, etc.
Prepares for death by making out a will and final arrangements
Gives away prized possessions
Has attempted suicide before
Takes unnecessary risks
Has had recent severe losses
Is preoccupied with death and dying
Loses interest in their personal appearance
Increases their use of alcohol or drugs



Compliments of Understanding Suicide

Recommended Reading
Suicide Survivors' Handbook
A Guide to the Bereaved and Those Who Wish to Help Them
By Trudy Carlson

"Trudy Carlson is a courageous woman. This book, written as a result of her son's suicide, demonstrated the transformative power of grief. It is the first book I would recommend to a survivor of life's worst nightmare--the death of a child by suicide. I learned so much from it. Although Carlson in no way minimizes the extraordinary grief a survivor experiences, she demonstrates how one can grow through adversity, and thus offers hope."



Healing After the Suicide of a Loved One
By Ann Smolin, John Guinan

The authors address the special needs and emotions of the survivors--those affected by the suicide of a loved one--explore the natural grief, and the added guilt, rage, and shame that dealing with a suicide often engenders. Includes a directory of worldwide support groups.



Suicide Survivors
A Guide for Those Left Behind
By Adina Wrobleski

Another suicide survivor loaned me Adina Wrobleskis' book, Suicide: Survivors. I have not read all of the book yet, but have found the areas that I have read to contain information that illuminate some things and help me understand what I feel. I believe that anyone who has been affected from losing a loved one could find this book to offer some help during a very difficult time. The treatment of suicide is well done by considering it from a real perspective of someone who is experiencing life as a suicide survivor.



My Son...My Son
A Guide to Healing After Death, Loss, or Suicide
By Iris Bolton.

This well-written text was extremely helpful to me and my family during an incredibly difficult tragedy, the suicide death of a beloved son. Survivors need education as well as encouragement from someone like Ms. Bolton, who has truly been in our shoes. I have recommended this book to many bereaved, even those who have not been touched by suicide.



In the Wake of Suicide
Stories of the People Left Behind
By Alexander Victoria

An excellent read for health care professionals, survivors of suicide and anyone seeking stories of human strength, Victoria Alexander offers a well organized collection of narratives from survivors of suicide. Raw in it's honesty, it offers hope of a future to the recently bereaved and a reference point for professionals and laypeople caring for those left behind. A survivor myself, it allowed me to address issues I had burried years earlier. A decade of collecting these touching, sometimes painful stories has allowed insight into a suffering that shame so often causes us to conceal.



Night Falls Fast
Understanding Suicide
By Kay R. Jamison

"Suicide is a particularly awful way to die: the mental suffering leading up to it is usually prolonged, intense, and unpalliated," writes Kay Redfield Jamison. "There is no morphine equivalent to ease the acute pain, and death not uncommonly is violent and grisly." Jamison has studied manic-depressive illness and suicide both professionally--and personally. She first planned her own suicide at 17; she attempted to carry it out at 28. Now professor of psychiatry at Johns Hopkins School of Medicine, she explores the complex psychology of suicide, especially in people younger than 40: why it occurs, why it is one of our most significant health problems, and how it can be prevented. Jamison discusses manic-depression, suicide in different cultures and eras, suicide notes (they "promise more than they deliver"), methods, preventive treatments, and the devastating effects on loved ones. She explores what type of person commits suicide, and why, and when. She illustrates her points with detailed anecdotes about people who have attempted or committed suicide, some famous, some ordinary, many of them young. Not easy reading, either in subject or style, but you'll understand suicide better and be jolted by the intensity of depression that drives young people to it.





Other Recommended Books

Why-Suicide? by Eric Marcus
Life After Suicide (A Ray of Hope for Those Left Behind) by E. Betsy Ross


Informational Sites
1000 Deaths
American Association of Suicidology
Depression Central
Suicide Memory Quilt
SPAN (Suicide Prevention Advocacy Network)
Survivors of Suicide
Survivors Road2healing
Yellow Ribbon Project Campaign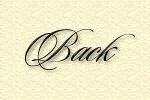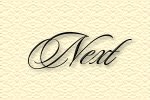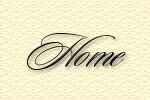 [ Main Causes Site | Murdered Children | Children Of Suicide ]
[ Vehicle Accidents | Killed By A Drunk Driver | Other Accidents ]
[ Sudden/Long Term Illnesses ]
[ Acts of Terrorism/War | Prevention of Child Abuse | Home ]

---
Copyright ©1996-2009 Marvel Creations. All Rights Reserved. All matching images and content of this website are © Marvel Creations and may not be reproduced. This web site was created and designed by Marvel Creations 1996-2009 which began May 29, 1996. These graphics are for the "exclusive" use of My Parents Are Survivors. Please do not take! Thank you!

We would like to thank Sharon Throop for the concept of this site. Please visit her website which is dedicated to her daughter
Wendy Lynne
6-18-77 to 11-12-96 ("Forever 19")

Changes last made on: Wed Jul 22, 2009