Prayer Memory Candle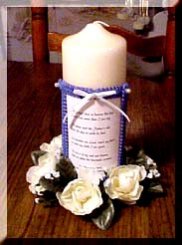 Materials Needed
Candle 2.8 X 8
White Ribbon
Blue Decorative Ribbon
Foral Crosage Pins
3' Yellow Rose Candle Ring
Wire cutters
Small amount of hot glue
Name Poem
Scissors





Directions
After you have gathered materials prepare your corsage pins. I've included a picture so you can see that I cut most of their length off. You will not need them their entire length. You will need 6 or 8 depending on the amount you would like to use. Cut your name prayer into a square or rectangle shape depending on length of name or names.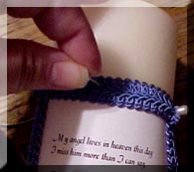 When you cut the end of your blue ribbon apply a small amount of hot glue to the edge to keep it from unraveling. This is simple to do... hold your poem onto the candle where you want to pin it. Take the blue ribbon and go along the edge pinning the ribbon and poem in place.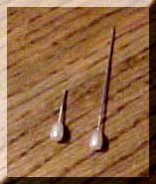 I pinned mine at each corner and on in the center bottom and top to hold a small white bow. You can also add a pin to the middle on each side. Just depends on you. After you have pinned the ribbon around the entire poem cut off in the corner where you pin. Add the small white bow to center and it is ready to sit inside your flower ring. You now have a memory candle.
Poem: I used size 14 font...but that is because the name is not very long. If you have a long name to add or names you will want to use a smaller font. Also I have done with two names but I placed the name poems side by side... It took up more room around the candle on the side.. but fit perfectly. If you need help with writing your child's name prayer poem just let me know and I will help.

Example of Name Prayer Poem:

M A R K
M y angel lives in heaven this day
I miss him more than I can say.

A lways near the Father's side
since the day on earth he died.

R emember me Lord, touch my heart
as from my child I am apart.

K eeper of my soul and dreams
hold me when the heartache screams.

In Memory of Mark
On Earth 11-5-78 In Heaven 1-23-97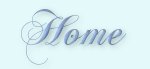 ---
Copyright ©2000-2009 Marvel Creations. All Rights Reserved.
All matching images and content of this website are © Marvel Creations and may not be reproduced. This web site was created and designed by Marvel Creations 2000-2009 which began May 29, 1996. These graphics are for the "exclusive" use of My Parents Are Survivors. Please do not take! Thank you!

Graphics by Marvelicious



Changes last made on: Wed Jul 01, 2009