Broken Heart Pin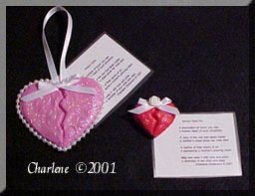 Materials Needed
Small & medium wooden hearts
Pink & red acrylic paints
Pin
Wood filler (small amount)
String of white pearls
White ribbon
Small white rose
Knife (craft)
Glitter
Hot glue
Clear gloss spray (clear spray paint)
Laminated card with saying (optional)
Clear shelf paper (for laminating)




Instructions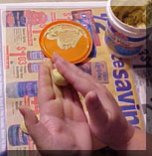 Prepare work place. Take a small amount of wood filler in your had and knead it softly. Then place in the center of the wooden heart. Lightly push to spread it evenly over the wooden heart. Cover the top entirely smoothing down over the edges of the heart on the sides. Using a craft knife, make indentations (cuts) down the center of the heart. This will give the heart the appearance of being broken. Be sure and do this before the wood filler dries. As the wood filler dries it hardens. Allow for drying time. Depending on amount and size.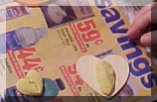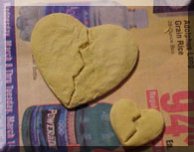 Then using red or pink (color of your choice) paint the entire heart. Before the paint dries sprinkle glitter on the heart. Allow this to dry. After it has dried spray a clear coat over entire heart. This will give it a shiny appearance. Allow this to dry.

You are now ready to decorate your heart.


For Pin:
Glue a small white ribbon and small white rose bud to the front top. Add a pin to the back to wear and/or attach to card for a gift.

Broken Heart Hanging:
Glue string of white pearls around the entire heart. Add a white bow to front top and another piece of ribbon for hanging. Attach small laminated card with saying on it. (optional)

Ideas:
You can even write your child's name on one side of the heart and dates on the other. For laminating I use clear shelf paper.

Card:
Print saying of your choice on card and laminate.


Broken Heart

A decoration of honor you see
a broken heart of such simplicity.

A copy of the one that beats inside
a mother's chest since her child died.

A replica of finer works of art
it represents a mother's grieving heart.

Display it with love and pride
a reminder of your child who died.

Charlene Dickerson © 2001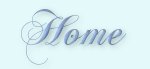 ---
Copyright © 2000-2009 Marvel Creations. All Rights Reserved.
All matching images and content of this website are © Marvel Creations and may not be reproduced. This web site was created and designed by Marvel Creations 2000-2009 which began May 29, 1996. These graphics are for the "exclusive" use of My Parents Are Survivors. Please do not take! Thank you!

Graphics by Marvelicious



Changes last made on: Wed Jul 01, 2009