Memory Poem Plaque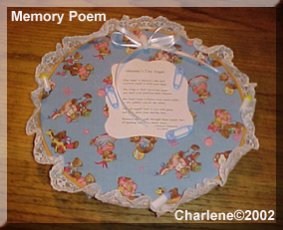 Materials
Wooden ring (any size)
Material (your choice) enough to cover ring.
White Invent It Labels
Glue
Baby Favors (bottles, diaper pins...etc.)
White ribbon
White lace
Instructions
Print any poem you have written for your child ...or use the one I wrote.
Print the poem out on the invent it label sheet.
Then measure just enough material to cover the wooden ring. Take the outside ring off and place material over the inside ring...after you have done this replace the top ring.
Cut off any access material.
You are ready to glue white lace around the entire ring. Cut out poem and peel off back...add a small amount of craft glue to help the label stick. Glue in center of material.
Add a bow to the top and glue on the baby favors to dress it up. It is ready to hang...or give as a gift. You may want to use your childs favorite blanket...shirt..etc. as a special memento.
Poem
Mommy's Tiny Angel

Tiny angel in Heaven's fair land
mommy wants to hold your hand.
She longs to hold you in her arms
and learn your precious baby charms.
Her heart longs to know your sweet smile…
as she cuddles you all the while.
Though angels tend to you with grace
and look upon your darling face…
Mommy must walk through these lonely days
of missing you in so many ways. Charlene Dickerson ©2002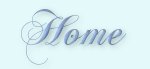 ---
Copyright ©2000-2009 Marvel Creations. All Rights Reserved.
All matching images and content of this website are © Marvel Creations and may not be reproduced. This web site was created and designed by Marvel Creations 2000-2009 which began May 29, 1996. These graphics are for the "exclusive" use of My Parents Are Survivors. Please do not take! Thank you!

Graphics by Marvelicious



Changes last made on: Fri Jul 03, 2009