Halloween Craft
Trick or Treat Bag & Candy Cup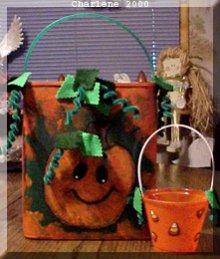 Materials Needed
Box: Recycled Pioneer Baking Mix Box
Acrylic Craft Paints: Black, White, Yellow, Orange, Pumpkin and Nutmeg Brown
1 Can of Hunter Green Spray Paint
Pastel Chalks
Liner Paint Brush
Sponge
Felt Squares: Dark Green and Light Green
Green Pipe Cleaners
Tapestry Needle
Thread: Orange and Green (small amount of each)
Plastic Canvas: 1 Sheet of White, and 1 Sheet of Green
Hot Glue
Clear Plastic Cup
Q-tips
Scissors (P-Shears)
Clear glaze craft spray(or clear spray paint)

Note: You can use bleach bottles with tops cut off, oatmeal boxes etc. in
place of box. Also if you don't feel you can draw the shape you want,
coloring books or computer is great for pictures to use.


Directions
The Trick or Treat bag/box is made out of a Pioneer biscuit mix box. Wash inside and rinse. When it is dry use a knife and make two small holes on each side of the box at the top. These holes will be used later for attaching handle to box. After you have made your holes. Use the hunter green spray paint to paint the entire box. Be sure to cover the front back, and bottom of the box. Allow appropriate drying time.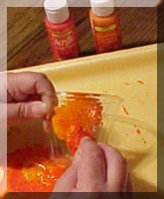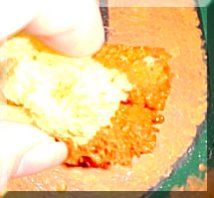 Prepare work space.
I used a large meat tray to pour my paints on. Using black and liner brush draw a pumpkin on front of box. Pour small amounts of both orange and pumpkin paints onto the tray. Using the sponge paint the pumpkin and outer edges of box... refer to the photo if you need to. After the pumpkin has dried use your liner brush with black paint to paint eyes and mouth. The stem of the pumpkin is painted nutmeg brown. Allow this to dry.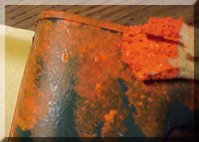 After your paint is dry put two small holes in your box (side by side evenly spaced) at the edge of the stem and pumpkin's top. These will be used later to place green pipe cleaners through for attaching vines. Using a Q-tip rub black chalk around top of pumpkin edges and outer edges. Shade the stem and mouth. Use red chalk shade some cheeks at the edge of mouth. Using a clear glaze spray entire box.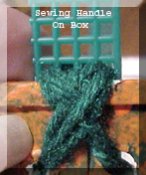 Preparing leaves:
Using your scissors cut several leaves from both dark and light green felt. Refer to photo if you need to. Cut a medium diamond shape for leaves.
Handle:
Cut a strip from your green plastic canvas for handle. It should be the entire length of sheet of canvas and four holes wide.
Assembling:
Using tapestry needle and a small amount of green thread sew handle to box. To do this place your handle to the inside of box over holes you made earlier. Sew the handle through the holes and over the edge of box and through the holes in plastic canvas several times in an X . Be sure to do this several times to insure a good solid hold.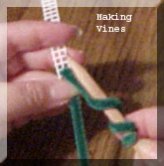 Attach vines:
Attach pipe cleaners just above the edge of box where you sewed handles on. To do this take pipe cleaner through one hole in plastic canvas handle and come back through hole beside it... twist pipe cleaner together. Using a pencil wrap pipe cleaner around it until the entire length is curled. This makes the vines. Attach a vine to the other side of the box in the same manner. On the front of box and using the two holes you made beside the pumpkin, take a pipe cleaner and run it through the holes with both pieces hanging on the front of box. Twist together and make vines.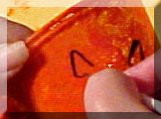 Using hot glue attach leaves. Use hot glue to attach leaves and vine (pipe cleaner) to the top front of box in the middle. Refer to the photo when and if you need to for any placements.
Your box is ready for Trick or Treat candy.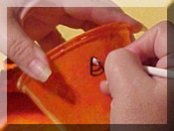 Candy Cup Favor:
Using a clear plastic cup be sure and put a hole on each side just below the rim of cup. Using sponge apply paint (orange and pumpkin) over the entire cup. After this has dried use black paint and draw several pieces of candy corn on your cup. Using the white and yellow paint your corn. Shade around side edges and bottom edges with black chalk. Using the white plastic canvas, cut a strip 2 holes X 70 holes for cup handle. Attach the handle to the cup by sewing X 's with tapestry needle and orange thread. Attach the same as box handle. Sew through the hole and plastic canvas making an X. Attach vines and leaves same as box. It is ready for candy. These are good for school parties...etc.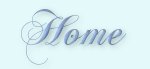 ---
Copyright ©2000-2009 Marvel Creations. All Rights Reserved.
All matching images and content of this website are © Marvel Creations and may not be reproduced. This web site was created and designed by Marvel Creations 2000-2009 which began May 29, 1996. These graphics are for the "exclusive" use of My Parents Are Survivors. Please do not take! Thank you!

Graphics by Marvelicious



Changes last made on: Mon Jul 06, 2009