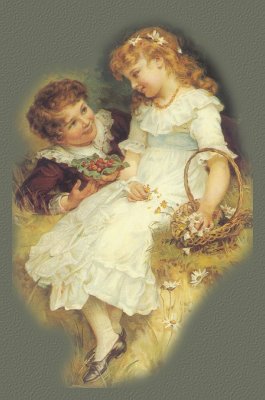 Poetry of Kaye Des'Ormeaux

Amy's Guardian Angel
Written by Kaye Des'Ormeaux
All Rights Reserved.
Dedicated to Amy in memory of the love she shares with Simon.

A picture is worth a thousand words,
or so I've heard it said before.
But, to look at this picture of love...
makes me believe it even more!

Oh, how Simon and Amy adored each other...
and it shows in the picture above.
And although his life on earth was ended,
Nothing could ever end their love.

He watches over her when she plays;
He's still amazed at her charm.
And when a rainbow shows it's colors,
Simon is just wrapping her in his arms!

So, don't ever fear, sweet Amy.
Your big brother is always near.
And, if you get lonely and need me,
Talk to me, for NOW I CAN HEAR!

And as you grow into womanhood,
I'll still be watching over you.
I'll watch you walk down that aisle one day.
When you tell that someone..."I DO!"

And you know that I'm always with you,
so talk to me once in a while...
Cause I'm your Guardian Angel,
guarding an angel that makes ME smile~

"Crying Happy Tears!"
~Kaye Des'Ormeaux
All Rights Reserved.
DEDICATED TO
BEA, VINCE & AMY....& Simon


We shed tears every day
for some reason or another.
But tears don't wash away
the painful fears of a mother.

For when a Mom has lost one child,
Can she survive losing another?
Oh dare not put this burden on her,
Spare the child & save the mother!

They patiently wait to hear the results;
What will the doctors say?
They hide their fears from their daughter,
But don't hide the prayers they pray!

Then, an angel from the Heavens above
Reached down to touch his sis!
and protected her from the threat of danger...
and sealed it with a kiss!

So, my friend, today you have the right
to just release all of your fears.
And thank that angel who lives in Heaven...
For watching you "Crying Happy Tears!"

Friends At My Fingertips
~Kaye Des'Ormeaux~
All Rights Reserved.
DEDICATED TO YOU!!!!

I don't have the privilege of traveling
but I have friends both near & far.
And I don't have to call their names,
because they know just who they are.

I have been blessed with the dearest ones
God chose to put on this earth.
And their gift to me is their friendship,
What a priceless gift it is worth.

I can't travel outside my home,
for this illness has taken control.
But, I go to the ends of the world,
And touch each of you in your soul.

I can't tell you how much I care
for each and every one of you.

And, though I'll never see your face,
I'll know you when life is through.

Yes, you are the friends that I'll cherish
For God sent each one of you to me.
And, though our faces may never meet,
Our hearts are joined for eternity.

And when my life on earth is over,
I'll be standing by the Jordan Riverside...
And you'll know me when you see me...
Because your children will ALL be at my side!

But, until that day comes around,
I'll forever to be grateful to each of you.
For without the love you've given me,
This trip would've been to painful to travel through!

"Greeting The Morning SON"
Written by Kaye Des'Ormeaux
November 16, 1998
All Rights Reserved.
Dedicated to ALL of my friends & family...

I am not afraid to close my eyes,
but I'm not ready to fall sleep.
I've got some lives to touch, oh Lord,
And some promises to keep.

I have no fear of crossing that line;
that line between life & death.
But as long as I have a heart to share,
I'll be there to my final breath.

Oh yes, I know my Lord is using me;
To somehow reach out and touch,
Those He wants His words sent to...
Those He knows I love so much.

There's times when I go to bed at night,
I wonder if it will be my last.

Will my friends know how much I love them?
Have I opened my heart in the past?

I only want to be a lighthouse, oh Lord;
a lighthouse that forever shines.
To be remembered by my friends & family,
when I have crossed over that line.

So until the day when God calls me home,
I'll send you a comforting word.
I'll ask the Lord for strength & guidance...
Let His voice in my poetry be heard!

I know the angels won't come get me
until my work on earth is done.
And when I'm through, I'll spend eternity
Forever greeting the morning "SON".

It Matters Not What the Age
Dedicated to the Moms and Dads who have lost a child.
Special Tribute to My sister, Linda Dalgleish
Aug 3, 1950 -- Aug 14, 1999
Kaye Des'Ormeaux
All rights reserved.

Oh it matters not what
How old a child may be.
If they are a young age of twelve.
Or at the age of thirty-three.
If they are called home...
The pain is just a real.
And only that Momma and Daddy
Know how the ache feels.

I've seen parents lose a child.
In the twinkling of an eye.
Their heart can only ask others
Oh Please tell me why?
Then, parents whose child
Has been ill for awhile.
When the moment comes,
Oh They can't release a smile.

I've seen my own Momma let my sister go.
And it broke her heart in pieces
More than she should bestow.
She never once expected
To bury her own child.
But death is no respecter of persons.
And death can't be defiled.

So, the moms who have walked
The path of anguish and pain.
My heart goes out to you daily.
I love you more than I can explain.
I wish I could give to each of you
A warm and loving embrace.
And could wipe each tear, Oh yes...
From your painful face.

But, since I can not do this.
I will ask the angels to
Reach through the Heavens
And send a special I love you.
And, now, my own sister...
Who is an angel now.
Will be one of those angels...
To protect us somehow.

And, when I see moms and dads,
Oh the precious ones I meet.
Who have lost a child...
I want to see you win the defeat.
For you've suffered enough
This we all know is true.
So, I send this gift of love.
To ease the pain you've been through.

It's So SADD
~Kaye Des'Ormeaux~
All Rights Reserved.
Dedicated to the Parents of JR,
who lost his life to a drunken driver.

One night while at a party,
I had too much to drink.
But it didn't hinder my senses,
or my ability to think.

So I got behind the wheel,
against all my friends request...
I'd been drinking & driving for years,
and I knew what was best.

But little did I know that night,
that I'd never be the same.
Down the road, a young man lost his life,
and I was the one to blame.

I didn't hear the squealing tires
or see the headlights up ahead.
I had lost all of my sense of reasoning,
drowned by the alcohol in my head.

I didn't know who was in that car,
and at the time, it didn't matter.
All I heard was the screams for help,
and the glass that forever shattered.

I saw a young man lying in the road,
He was a face without a name.
Oh, if a passerby would stop to help,
they'd know I was to blame.

So I had to think of what to do,
I had to somehow get a grip.
My courage lay within my bottle,
so I just took another sip.

I couldn't face the consequences
of what I had just done.
I couldn't look the parents in the eye
knowing I had killed their son.

So, I drove my car as fast as it'd go,
never giving it a second thought.
I drowned the memory of that night,
with every bottle of liquor I bought.

And now, I am a wanted man.
Every poster displays my face.
It's SADD that I chose to drink & drive.
And now I'll live forever in disgrace.

My Angel Tina
Kaye Des'ORmeaux
All Rights Reserved.
Dedicated to Helen
In Precious Memory of Tina

One cold day in January 1967,
God gave me a baby girl.
Just one glance from her eyes,
Oh she set my heart in a awhirl.

She was such a happy child.
So full of jokes, smiles and laughter.
A lovely child with hopes and dreams.
She knew what to go after.

But deep within her heart,
where no one else can see.
There was a turmoil going on.
One that she hid from others and me.

She hid her feelings deep within.
And surrounded them with a wall.
We couldn't see through her pain.
We didn't know she felt pain at all.

One day, she came home from school.
Without a warning; without a sign

She took her own life that afternoon.
Oh God, she might as well have taken mine.

My precious angel Tina took her life
and left me oh too soon.
It has been fifteen years since that day...
But I can still see that dreadful afternoon.

I still long to hold her in my arms.
To see her smile once more.
To hear the infectious giggle she had
To see her rush through the door.

But now, she is my Angel Tina.
An angle with golden wings.
Although I can't see her smiling face,
I can feel the love she always brings.

And, when my time on earth has ended,
I will be met by my precious love.
She'll meet me in the air and carry me,
To my home in the Heaven's Above!

My Loss Is Heaven's Gain
Written by Kaye Des'Ormeaux
All Rights Reserved.
Dedicated to one special lady, Sonya Marvel
in memory of John.
Sonya, I love ya.

On the day my son was born,
my life was made complete.
One look into his eyes and I knew
no obstacle was too big to defeat!

When he was placed in my arms,
he touched my very soul.
His tiny fingers and charming smile...
Oh how they made me whole!

I'd sit and hold him close to me;
And speak of love in his ears.
I shared all my heart with him,
and calmed his every fear.

I couldn't tell him how much I love him,
for no words could ever express
How much I love my precious only son...
More than life itself, I must confess!

And as a mother, I always thought,
My son will have to bury me.
For his whole life is ahead of him...
and his death I'd never see.

But life doesn't always happen the way
we plan in our hopes and dreams.

Sometimes others drown our hopes,
with their evil deeds and schemes.

For on that horrible Friday morning,
my life came to a sudden halt...
I was told my son was shot accidentally,
Oh my God, who was at fault?

Yes, my son went to Heaven that day...!
And, I was left in total disbelief!
Oh how could this tragedy happen to him?
Will I ever live through this grief?

I don't know how I lived through those days
with people around me everywhere.
They wanted to just comfort and console me,
while I screamed, "this isn't fair!"

I prayed, Oh Lord, give me back my only son.!
Can you hear me when I plea?
I wasn't suppose to bury him, Lord.
He was to have buried me.

Now, the years have come and gone...
And, yes, I still feel my pain.
But now, I think of him with the angels..!
and know....My Loss is Heaven's Gain~!

Touched By An Angel
Written by Kaye Des'Ormeaux
November 8, 1998
Dedicated to Eve in memory of Jessica
All rights reserved.
When God grants us the privilege
to bring a baby into this world...
We can sometimes feel that angelic touch,
from that little boy or little girl.
As that little angel grows into a child,
their touch is felt upon our feet.
For they're running and playing around us,
with a smile that touches each heartbeat.
We capture each moment of their love,
and keep the image deep in our soul.
For each time they give you a hug or a kiss,
you know their love has made you whole.
But, it's a dreadful moment for each parent,
when the world takes your child away.
You try to touch their heart with your words,
But there's nothing you can do and nothing you can say.
As these children grow older and meet the world,
they're like a bird from a nest that's flown.
They're influenced by those friends they've made;
Their thoughts are not always their own.
Oh, when their touch is felt within our heart,
it causes a pain just too hard to bear...
For we can't seem to reach them anymore,
to show them how much we still care.
And, oh, too often we find ourselves
wishing we had another chance...
To see them and hold them close to us...
to hear their laughter and watch their dance.
We long for that angelic touch once more,
to feel their kiss upon our face...
But now our angel watches us from Heaven,
and is touching us by God's love and grace.

"When It's Time For You To GO!"
Copyright 1998 Kaye Des'Ormeaux
Dedicated to my family & friends.

One night I was awakened
by a knock upon my door.
I went to see who it was
as I've done many times before.
I saw a man dressed in a robe...
His hair was white as snow.
He reach His hand toward me
and said, "It's time for you to go!"
I don't know why I felt no fear
of the stranger standing there.
I took Him by His gentle hand.
Then we were floating in the air.
We reached the Pearly Gates of Heaven
and walked through Heaven's door.
He said, "You lived for me on earth, my child!
Now you'll live with me forevermore!"
He led me down the streets of gold
to the mansions He had prepared.
He showed me the Throne of God
that together we would share!
He let me hear the angels sing...
Their faces were all aglow!

He then turned to me and said,
"It's time for you to go!"
I was awakened by a noise...
A noise I'd never heard before.
My family was weeping & smiling
standing at the entrance door!
Oh, it seemed that for quite some time
I'd been in a deep & peaceful sleep.
But the memory of Jesus with me
was mine to cherish & keep.
Then...Jesus entered into the room,
though no one saw Him come in.
He came to my bed and said,
"You know where you have been.
But, life on earth isn't over yet.
You still have some things to do.
Touch each life that you can touch
with this time I'm giving you!
And, don't fear, my child, I am here
and I'll always love you so...
And, I'll be the one to carry you home...
When it's time for you to go!"

Only a Prayer Away
Kaye Des'Ormeaux ©February 25, 2000
All Rights Reserved.

Without the prayer warriors,
where would we be?
We'd be a ship in distress...
Lost in a stormy sea.

Without those we cherish
watching us from above...
We'd surely be lost, my friends...
Without those we love!

So keep us in your prayers
as you do every day.
And remember that our Lord
is only a prayer away!!!

Thawing

Losing a child is the worst nightmare
any Mom could ever come to know.
It's been said that time is the answer.
But time seems to just come & go.

Oh, the pain they feel is hidden.
It's buried inside their deepest soul.
They are alone in their grief & learn
crying won't make them feel whole.

No one knows of those empty feelings
hidden deep underneath a rock.
It may appear that their life goes on.
Actually, they live in a terrible shock.

Nothing anyone says can help them.
Although they try to be nice.
It's a pain that stabs their heart
A pain that leaves them colder than ice.

Then, one day, without warning...
Against all odds of Murphy's law...
Pain they've hidden comes to surface.
They then begin to slowly thaw!

"Thawing" is the process of healing.
Or so the therapist want to claim.
But any momma who's lost a child knows,
Life's just never going to be the same.

It matters not whether the pain is hidden,
or out in open view for all to see.
When you lose a child you gave life to,
"thawing" is a process never to be.

So you reach down inside your heart.
Yes, place them out in plain view.
And then be reminded daily of your angel.
And how much your angel loves YOU.

~Author~
Kaye Des'Ormeaux ©2000
Dedicated to Karen McComb
and all the moms who have had to live through this "Thawing Process."



Please visit Kaye's Other Pages
[ Kaye's Home Page | Purchase Kaye's Book | Email Kaye]

[ My Parents Are Survivors | My Mom Is A Survivor ]
[ My Dad Is A Survivor | My Grandparents Are Survivors ]
[ Poetry Bookstore ]



---
Copyright ©1996-2009 Marvel Creations. All Rights Reserved. All matching images and content of this website are ©Marvel Creations and may not be reproduced. This web site was created and designed by Marvel Creations 1996-2009 which began May 29, 1996. These graphics are for the "exclusive" use of My Parents Are Survivors. Please do not take! Thank you!

Changes last made on: Thu Jul 16, 2009