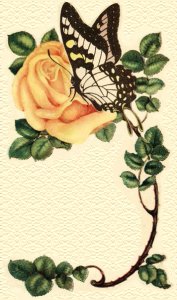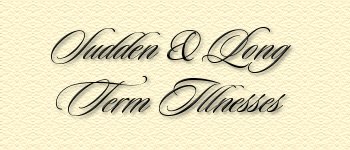 December 01 - National AIDS Awareness Day. This internationally recognized day is used to increase public awareness about Acquired Immune Deficiency Syndrome. This disease threatens everyone, and many hold that the best defense is education about its transmission. The Fabric of Life logo contains one of the most recognized symbols of the fight against AIDS. The red AIDS Awareness Ribbon. The AIDS Awareness Ribbon, or red ribbon, is commonly seen adorning jacket lapels and other articles of clothing as a symbol of solidarity and a commitment to the fight against HIV/AIDS.



AIDS Memorial Quilt
The Body
Children With AIDS
Duke University AIDS Research
HIV/AIDS Program
HIV Positive.com
Pediatric AIDS Foundation
Red Ribbon Campaign


October is Breast Cancer Awareness Month
A handsome, middle aged man walked quietly into the cafe and sat down. Before he ordered, he couldn't help but notice a group of younger men at the table next to him. It was obvious they were making fun of something about him, and it wasn't until he remembered he was wearing a small pink ribbon on the lapel of his suit that he became aware of what the joke was all about.

The man brushed off the reaction as ignorance, but the smirks began to get to him. He looked one of the rude men square in the eye, placed his hand beneath the ribbon and asked, quizzically, "This?". With that the men all began to laugh out loud. The man he addressed said, as he fought back laughter, "Hey, sorry man, but we were just commenting on how pretty your little ribbon looks against your blue jacket!"

The middle aged man calmly motioned for the joker to come over to his table, and invited him to sit down. As uncomfortable as he was, the guy obliged, not really sure why. In a soft voice, the middle aged man said, "I wear this ribbon to bring awareness about breast cancer. I wear it in my mother's honor." "Oh, sorry dude. She died of breast cancer?" "No, she didn't. She's alive and well. But her breasts nourished me as an infant, and were a soft resting place for my head when I was scared or lonely as a little boy. I'm very grateful for my mother's breasts, and her health." "Umm," the stranger replied, "yeah."

"And I wear this ribbon to honor my wife," the middle aged man went on. "And she's okay, too?", the other guy asked" "Oh, yes. She's fine. Her breasts have been a great source of loving pleasure for both of us, and with them she nurtured and nourished our beautiful daughter 23 years ago. I am grateful for my wife's breasts, and for her health." "Uh huh. And I guess you wear it to honor your daughter, also?"

"No. It's too late to honor my daughter by wearing it now. My daughter died of breast cancer one month ago. She thought she was too young to have breast cancer, so when she accidentally noticed a small lump, she ignored it. She thought that since it wasn't painful, it must not be anything to worry about." Shaken and ashamed, the now sober stranger said, "Oh, man, I'm so sorry mister."

"So, in my daughter's memory, too, I proudly wear this little ribbon, which allows me the opportunity to enlighten others. Now, go home and talk to your wife and your daughters, your mother and your friends. And here . . ." The middle aged man reached in his pocket and handed the other man a little pink ribbon. The guy looked at it, slowly raised his head and asked, "Can ya help me put it on?"

This is breast cancer awareness month. Do regular breast self-exams and have annual mammograms if you are a woman over the age of 45. And encourage those women you love to do the same.

"Loss Of A Sick Child"
By © Karen aka Blulady 1983

You are the pains of birth that a woman soon forgets when a babe is laid in her arms.
You are a time when suddenly one person becomes two ...
You are the source of a woman's power -- and a reminder that women are the bringers and givers of life.
You are the joy felt the moment the babe is beheld -- a glimpse of the divinity within ...
You are the fragile reminder that life is not a guarantee -- but a gift.
You are the sharp reminder of all that is life and death.
You are the essence of humankind that draws upon one another for strength and caring.
You are the reminder that we need each other -- and that every life is worth fighting for.
You are gone now, my child, the illness won the battle -- but you will always be.


My Angel Forever

I had a beautiful little boy.
His eyes shined like gold.
He knew how to make me smile.
His love continue to unfold.

He was such a healthy happy child.
Then one day, he got sick.
It wasn't supposed to be this way.
But it happened so quick.

At first the doctors didn't know.
But it all became so clear.
Cancer would soon take over
and take the son we hold dear.

His life became full of hospitals.
Where they ran test after test.
Oh Lord if only they could find an answer,
we could have handled the rest.

He was so precious to us.
He never once lost sight.
He didn't want us to be in pain.
Oh Lord, this wasn't right.

He fought the battle so bravely.
As only he could do.
As his pain grew steadily worse,
He saw what we were going through.

When the angels came to get him,
His eyes closed in death.
He became our guardian angel.
To guard us until our final breath.

Oh Yes, He will always with us.
I feel his kiss upon my face.
At night I cry and wonder why
It wasn't me in his place.

Yes, I had a beautiful little boy.
Now he's an angel with wings of gold.
He still knows how to make me smile.
And his love continues to unfold.

So as each day comes to an end
Be sure to never overlook a glance.
Or a time to say "I love you."
For you may never get another chance.

~ Kaye Des'Ormeaux ~
Copyright 1999
Dedicated to Janie
In Memory of Keith
It is illegal to take or use a copyright
poem or work without original authors permission.
Our Prince Of Love

When our prince made his entrance,
we thought life was complete.
He brought sunshine with him.
And a smile to those he'd meet.

Oh he was an active little boy.
Although he was the little one.
So much love in his heart & soul.
He was a prince as well as a son.

His royalty could easily be seen
in the hearts of his friends.
Never once did he lose sight.
His love was with us to the end.

He showed us his royalty
as his time drew near.
Even though his pain grew worse,
He refused to show a tear.

The love of his life was with him.
She was always at his side.
Even though it wasn't easy,
Her love for him would not be denied.

Through it all, he never gave up.
We tried to keep his morale high.
But as it turned out, it was he
that helped us understand why.

And now, as this is written,
he is in Heaven above.
He will always be our Prince.
A prince with a heart full of love.

~Kaye Des'Ormeaux~
Copyright 1999 Kaye Des'Ormeaux
Dedicated to Janie
In Memory of Keith
Feb. 22, 1978 -- May 19, 1998

It is illegal to take or use a copyright
poem or work without original authors permission.

This page is dedicated to each of our children who died of natural causes, health issues, sudden illnesses or long term illnesses. Each of our Parents took care of their child or children every day and had to watch them suffer through these illnesses.

The graphic below is for our parents and grandparents who have lost a child to illnesses ~ sudden or long term. Please display this on your website and provide a link back to http://mpas.tripod.com/sim6.html.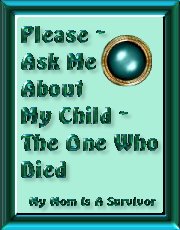 Recommended Reading
After the Death of a Child
Living With Loss Through the Years
By Sherokee Isle and Arlene Appelbaum

"When our daughter Leilani Jean died three weeks before delivery, it was a terrilbe blow after having lost two other children in the first trimester of pregnancy. We had awaited her brith for 12 long years only to learn that it was not to be. This book helped us to cope and it helped me to hold on to the edge of what seemed an endless black pit.and it also helped me to see the light at the end of it all.Nothing can take the pain away but this book does help soften it alot."

The Grieving Child: A Parent's Guide.
By Helen Fitzgerald

Explaining death to a child is one of the most difficult tasks a parent or other relative faces. The Grieving Child now provides much-needed guidance, covering such areas as visiting the seriously ill or dying, especially difficult situations, including suicide and murder, attending a funeral, and the role religion can play.

Informational Sites
Allergy and Asthma Network
ALS Links/Terminal Illnesses
American Cerebral Palsy Information
American Heart Association
Aneurysm
Brain Tumor Center
Center for Disease Control and Prevention
Children's Art Project
Encephalitis
Epilepsy Foundation
Gift Of Life Webring
Gilda Radner Familial Ovarian Cancer Registry
Hypoplastic Left Heart Syndrome
Kids With Cancer
Life Source
Living With Lupus
Make-A-Wish Foundation
Megan's Mission
Merck
Muscular Dystrophy Association
National Brain Tumor Foundation
National Kidney Foundation
Neuroblastoma Research
Osteogenesis Imperfecta Foundation
Pediatric Leukemias
RSV Info Center
Rhizomelic Chondrodysplasia Punctata by Sassy
Spina Bifida
Spina Bifida and Hydrocephalus
What Is Walking Pneumonia
Wilms' Tumour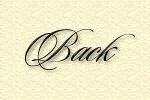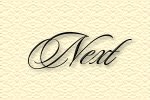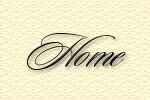 [ Main Causes Site | Murdered Children | Children Of Suicide ]
[ Vehicle Accidents | Killed By A Drunk Driver | Other Accidents ]
[ Sudden/Long Term Illnesses | Infant Deaths/Miscarriages]
[ Acts of Terrorism/War | Prevention of Child Abuse | Home ]

---
Copyright ©1996-2009 Marvel Creations. All Rights Reserved. All matching images and content of this website are © Marvel Creations and may not be reproduced. This web site was created and designed by Marvel Creations 1996-2009 which began May 29, 1996. These graphics are for the "exclusive" use of My Parents Are Survivors. Please do not take! Thank you!

Thanks to Sue Overton for helping with the research of this page. Thanks so Karen a/k/a Blulady for sending the poem entitled *Loss Of A Sick Child*.

Changes last made on: Wed Jul 22, 2009